Disabled Sailing Association of Ontario
January 29, 2012 in Accessible Sailing
The Disabled Sailing Association of Ontario (DSAO) is dedicated to providing people living with a disability the opportunity to learn about and enjoy sailing. The DSAO is a non-profit charitable organization founded, organized and run by people with disabilities, and is uniquely attuned to the needs and desires of its participants.
DSAO's mission:
To provide sailing opportunities for Ontarians, regardless of ability or age.
To provide unique, enjoyable experiences for its participants which include opportunities for social, recreational, rehabilitative and competitive activities.
To build confidence and self-esteem for people with disabilities, and enhance their independence.
To facilitate integration of disabled and able-bodied recreation and competition.
The success of sailing as a recreational and rehabilitation program for the disabled is evident in both the growing numbers of people with disabilities that participate in these programs, and in the enthusiastic support that DSA-Ontario has already received from disabled communities, organizations and funding agencies. Supporters are inspired by the realization that the lakes and oceans of Canada serve as a great healer and equalizer – people with mobility impairments can leave their wheelchairs (and their disabilities) behind, and enjoy the independence and freedom that one experiences when wind, sun and spray join forces to make a perfect sailing day.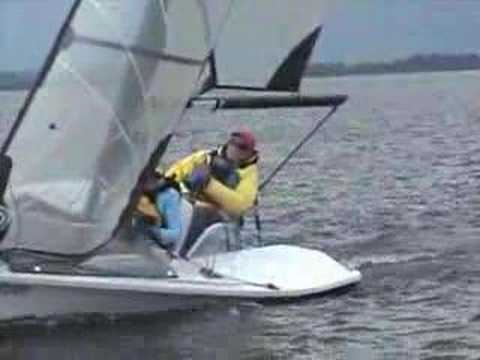 In Ontario, DSAO has the following chapters:
Queens Quay Disabled Sailing Program (QQDSP)
QQDSP caters to more than 100,000+ disabled people in the Greater Toronto Area. Using Martin16 and Liberty sailboats. 2 keelboats used for Outreach programs.
National Yacht Club Able Sail (NYCAS)
National Yacht Club Able Sail caters to disabled people in the Greater Toronto area, specializing in the 2.4mR paralympic sailboat.
Burlington Able Sail (BAS)
Burlington Able Sail caters to disabled people in the Burlington area. Using Martin16 and Liberty sailboats.
Racing Regattas, Wednesday Night Racing
If you would like to use QQDSP boats and equipments for out of town regattas and events, please coordinate your trip through the QQDSP staff or the event participant coordinator.
Training Camps
This is an ideal opportunity for experienced racers to take their skills to a new level. At these training camps, you will learn new tactics, and tips, and will be able to test your skills against other seasoned racers.
Please contact QQDSP if you are interested.
Wednesday Night Racing at QQDSP
The top racers from our weekly Wednesday night racing series will square off for the coveted title of QQDSP Race Night Champion!
Sign up with QQDSP
ABYC Skippers' Plan Cup
Thanks to all those who came out!
This regatta is hosted by the Ashbridges Bay Yacht Club, organized in partnership with DSAO. Two fleets race: Martin 16 Gold Fleet and Martin 16 Silver Fleet.
Coupe de Quebec Regatta (Montreal)
This is an excellent regatta for sailors new and old. A friendly and inviting environment, the Coupe de Quebec is a class A event. Sign-up, and enjoy the ride!
Please contact QQDSP for more information.
Anniversary Regatta
In celebration of QQDSP's birthday (June 23rd), this regatta is a friendly weekend of racing including a celebratory dinner on Saturday evening. Participants are welcome / encouraged to contribute to the saturday evening meal. Both volunteers and members are welcome to participate in the racing.
July 10th to 11th
REACH Regatta
QQDSP plays host to racers from all over Ontario, Quebec, New York, and Vermont. Two fleets race: Martin 16 Gold Fleet and Martin 16 Silver Fleet. Team up with a friend and challenge other teams for the best overall team score, and the REACH Team Trophy.
Royal Hamilton Yacht Club (RHYC) Regatta
This regatta is a lot of fun with great music and great food on both Friday and Saturday night. You can choose to stay overnight in Hamilton if you like, but these plans should be made on your own.
Mobility Cup Regatta
This is an excellent venue for new racers. Here, you will meet people from all over North America and beyond, in one of the most supportive and friendly (yet competitive) environments you will ever experience (come out and meet the family!). The Disabled Sailing Association of Ontario sponsors our sailors and there may be small fundraising events to help with travel costs.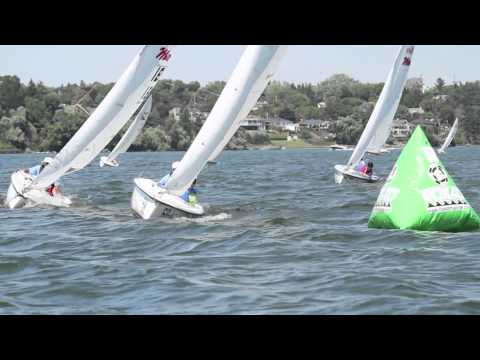 Disabled Sailing in Canada – how it all started
At the 1986 Vancouver Expo, then British Prime Minister Margaret Thatcher donated a British-made Sunbird sailboat to Rick Hansen in honour of his "Man in Motion" world tour. In 1988, Rick presented the boat to Sam Sullivan, who subsequently used it to help found the Disabled Sailing Association of BC (DSA). Within a few short years, DSA had a total of 16 specially adapted Sunbird sailboats in three British Columbia Chapters — Vancouver, Victoria and Kelowna.
A breakthrough came in 1993, when Sip 'n' Puff controls were added to one of the Sunbirds. This technology opened the world of sailing to "high quads" — those with little or no upper body mobility. Through pneumatic switches they can control the boat. Although the Sunbird remained functional, the equipment and safety modifications required for Sip 'n' Puff technology affected the performance of the boat and prompted DSA to search for an alternative.
Today, at the heart of the program, is the Martin 16 sailboat– a vessel designed and built in Vancouver that is becoming the standard for disabled sailors everywhere. The Martin 16 is unsinkable, maneuverable and fast. It can be easily equipped with the Sip 'n' Puff system, which allow even quadriplegics to sail the Martin 16 unimpeded.
DSAO – how it all started
It all started with Danny McCoy and Steve Alvey on a non-stop road trip late October of 1998 to Lake George, New York to pick up a Martin16 sailboat. They drove through the night and talked and talked to keep themselves awake. During this trip they talked about the dream of building a disabled sailing program in Ontario. And why not start it by hosting the biggest regatta for disabled people in the world. At that time Mobility Cup was the largest disabled sailing championship in the world.
The first Mobility Cup was in 1992. At that time the event was predominantly held in Vancouver. In those days the championship  alternated between Calgary and Vancouver. Mobility Cup had never been hosted in eastern Canada.
To make the concept a reality, the next step was Danny flew to Vancouver to meet with Sam Sullivan to discuss the possibilities. Danny learned that the whole purpose of Mobility Cup is to seed and create new programs, so the mandate next was to build a program – because if you want to host Mobility Cup you have to have a program.
In 1999 DSAO's flagship program QQDSP was immediately created to offer affordable access to sailing on Toronto's waterfront for more than 100,000+ disabled people in the Greater Toronto Area with mobility impairments.
In 1999 Mobility Cup was brought to eastern Canada for the first time, hosted by DSAO and held at National Yacht Club. The excitement and enthusiasm that this event generated within the Toronto disabled community sparked the desire for programs where disabled Ontarians could sail.
The realization that our lakes serve as a great healer and equalizer inspires people with mobility impairments to leave their wheelchairs and enjoy the freedom of wind, sun and spray.
REFERENCES
DSAO Website: http://www.disabledsailing.on.ca